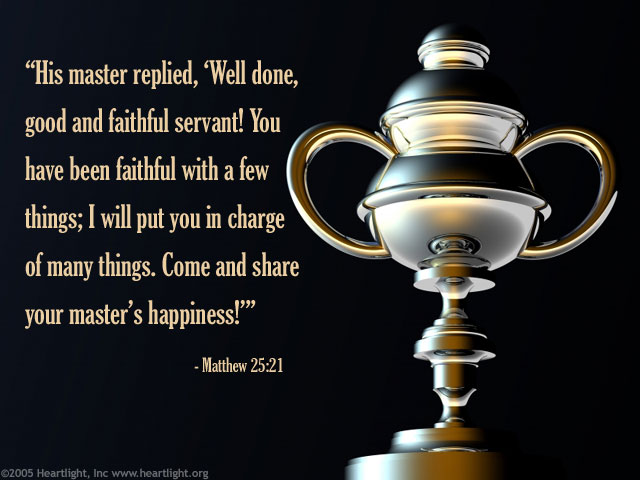 A few years ago I found myself amongst a large group of Christians that had become very entrepreneurial minded. Around that time I made business cards for my wife and me. These card were not for business, but were given to people we met who wanted to keep in touch, hang out, whatever. Anyway I decided that maybe my business would be making business cards for people since I've always liked anything related to computers and stuff like that. I was quickly able to round up some customers in my Church and had a great time doing what I do (or did). There was only one problem. I could never accept any money for what I had given them. It just didn't feel right to me so I just gave them away. I had no problem with everyone else's pursuit but I couldn't do it.
Another trend I encountered some time ago was a hunger in the Church. This was not an entrepreneurial hunger, nor was it truly a Ministry hunger, and no, it wasn't a hunger and thirst after righteousness. It was a hunger for titles. What I began to long to see at this point were some good old fashioned ordinary balanced Christians. You know people that loved God, went to work, came home, loved their spouse, loved their children, corrected their children, taught their children, went to Church, were honest, hardworking, and secure; knowing that they were in the perfect will of God and would not let fame or fortune pull them away from the basic things Christians should do; the things which cause major headaches and embarrassment to the Body Of Christ when they are neglected.
As I mentally and spiritually survey the various people I've encountered through blogging, I'm glad to say I've been befriended by some balanced Christians. Some of them are entrepreneurs because that's what God has called them to be. Some of them are titled because God has called them. But all of them on a daily basis strive to simply do the right thing, first by God, and as a by-product of that, everybody else.
Stacye stated some truths about some of you on Free Spirit's post about insignificant service that I could echo, but I won't. Suffice it to say if you're reading this, you probably aren't as famous as Chris Brown, Jimmy Swaggart, Jim Baker, Bill Clinton, or Ted Haggard. People that have reached the tops of their profession or Ministry, but they've all been associated with failures that took place off the stage, away from the pulpit, or outside of the oval office (ok maybe not).
I hope before I leave this Earth I do some great, inspiring, soul saving, life enhancing, things for people through a Christ centered ministry that starts with myself and spirals outward, but if it starts and ends at my house with a happy wife and kids, then maybe I'll still hear, "Well done, good and faithful servant; thou hast been faithful over a few things, I will make thee ruler over many things: enter thou into the joy of thy lord." Matthew 25:23 KJV
Love y'all
I'm just an ordinary servant, willing to be used
For whatever You have for me to do
I'm just an ordinary servant, may be least qualified
But I offer you a sacrificial life
For I believe if You can use a shepherd boy and turn him into a king
Then I believe that your ordinary servant
Has an extraordinary purpose
Lord, use me for whatever You please
I'm Your ordinary servant
With an extraordinary
Lord, use me for whatever You please
(Sha Simpson - Ordinary Servant)